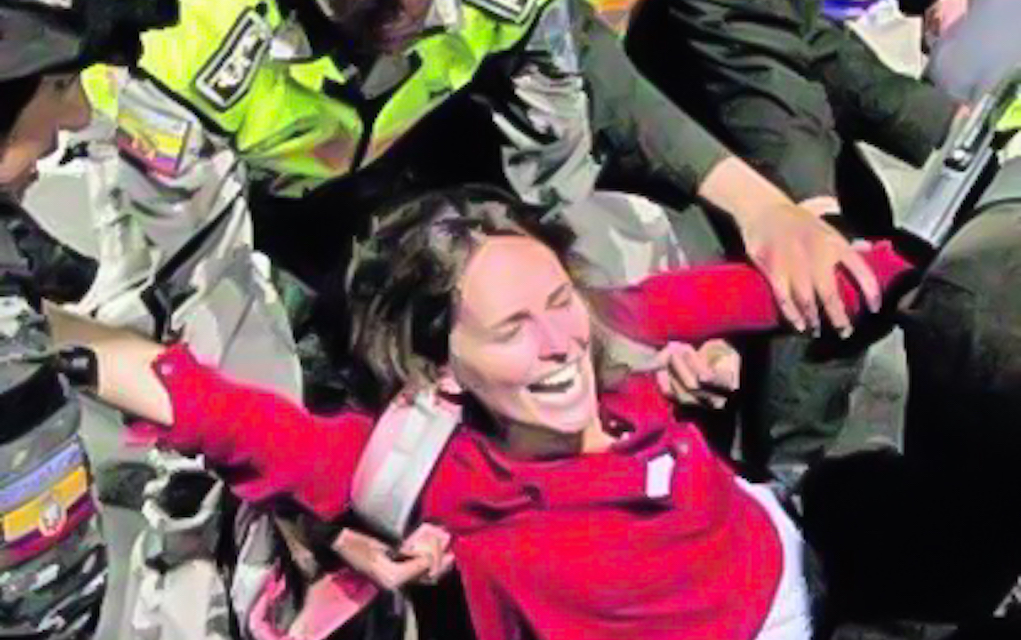 UPDATED THURS 20/8/2015: Manuela Lavinas Picq faced two hours of court deliberations on Monday the 17th at 16:00. The hearing was in order to define the immigration status of the Brazillian academic/journalist who had, several days earlier been subjected to a brutal arrest, beating and later deportation order as a result of an indigenous rights protest in the Ecuadorian capital of Quito.
After the two hour deliberation, the Judge Gloria Pinza decided that no reason could be found for the arrest nor deportation.
Manuela was later released from custody. See video below.
MON 17/8/2015: This week, Ecuador's largest indigenous organization, The Confederation of Indigenous Nationalities of Ecuador (CONAIE) led thousands of protesters in the capital Quito. The initially peaceful protests ended with violent clashes with police Thursday night. Among the protesters was Brazillian journalist, Manuela Lavinas Picq who was the partner of one of the main indigenous activists from Ecuador, Carlos Pérez Guartambel. During the outbreak of violence, Manuela was beaten, arrested, later hospitalized and her visa arbitrarily cancelled without due process.
The arrest was caught on film by spectators and published in the local publication El Comercio where one can see Manuela tackled to the ground by numerous male officers. See film below.
As well as being a journalist, Manuela is a widely-recognized scholar of International Relations, social movements, feminism, indigenous studies, and sexuality studies. She has held academic appointments at Amherst College and Princeton. Up until the last days, she has been a resident of Ecuador and is a faculty member of the University of Quito.
According to change.org where a petition has been set up to stop Manuela's deportation she was participating in a "legal, peaceful protest as a journalist" and was unarmed and accompanied by other journalists and photographers. The petition directed specifically at Ecuador's Minister of External Relations, Rafael Correa has reached over 6500 supporters in 3 days.
In an email update provided by Manuela's mother today, it is told that whilst in detention and provided the availability of internet connection Manuela will today be interviewed by the progressive US publication Democracy Now. According to the update, the French Government will "express their position" on the case later in the day and also Amnesty International (UK) have entered the case.